Request by admin...
Please don't take out my gif. Just link back to this page for viewing.
mslee1107

Saturday, May 2, 2015
Post WGM
[mslee writes some thoughts]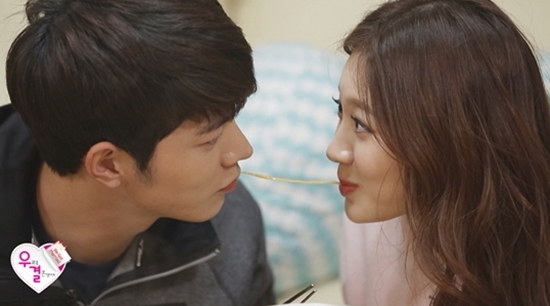 And still Hong Jong Hyun keeps on mentioning Yura in his interviews in relation to his movie Police Family 2 which he has been promoting.
I guess, when it comes down to knowing him personally by the interviewer, talk of WGM will surely come up. But it is interesting to note that Hong Jong Hyun is not afraid to mention Yura's name even after their program as virtual husband and wife are over. Which is basically refreshing when it is typical of actors/actress/idols not to be continuously paired names with previous colleagues to continue the mystery of being single as their line of works considers it a must.
From this article released...
홍종현, '걸스데이 유라' 언급 "우결 하차 후에도 연락"
[enews24 연예팀]
홍종현과 '걸스데이 유라'의 우정이 화제다.
홍종현과 '걸스데이 유라'는 MBC '우리결혼했어요'에서 가상부부로 출연했다. '걸스데이 유라'와 호흡을 맞추던 중 홍종현은 애프터스쿨 나나와 열애설에 휩싸였다. 이후 '걸스데이 유라'와 홍종현은 '우결'을 하차했다.
홍종현과 걸스데이 유라는 '우결' 하차 후에도 우정을 이어가고 있다. 홍종현은 영화 '위험한 상견례2' 인터뷰에서 "걸스데이 유라와 여전히 연락하고 있다. '우결' 당시 열애설에 대한 오해도 풀었다"고 설명했다.
한편 '위험한 상견례2'는 경찰가족과 도둑가족의 포복절도 결혼 결사반대 프로젝트를 그린 영화. 홍종현은 진세연과 호흡을 맞췄다.
= 홍종현, 걸스데이 유라 (사진 MBC 우리결혼했어요 홍종현-걸스데이 유라)
연예팀
this is really a very challenging translation to be understood but still..
via google translate
The topic of friendship and Hong Jong-Hyun 'Girl's Day Yura.
Hong Jong-Hyun and "Girl's Day Yura" has appeared as a virtual couple in MBC 'We Got Married'. Hong Jong-Hyun of the Dawn fit the "Girl's Day Yura, and breathing was embroiled in After School Nana and yeolaeseol. After "Girls Day Yura 'and was off to Hong Jong-Hyun' We Got Married '.
Hong Jong-Hyun and Girl's Day Yura has continued the friendship after getting off 'We Got Married'.
Hong Jong-Hyun movie 'hazardous sanggyeonrye 2' in an interview,
"Girl's Day Yura and are still in touch.
'We Got Married' was also Pool misconceptions about yeolaeseol time," he explained.
↑
Hong Jong-Hyun, Girl's Day Yura mentioned contact
after getting off woogyeol
The 'dangerous sanggyeonrye 2' movie is a crease marriage and family associations opposed the project of police thieves families. Hong Jong-Hyun has focused breathing and Jin Se-yeon.
= Hong Jong-Hyun, Girl's Day Yura (MBC We Got Married Photo Hong Jong-Hyun - Girl's Day Yura)
-------
mslee's thoughts continue...
So yes, the interviews talk of their friendship which they both keep and even after WGM they are still in contact with each other.
this is an excerpts from another interview
five paragraph upwards..[lol] to be precise
"리얼 예능프로그램이지만 카메라 앞에서 원래 평소의 모습을 보여드려야 하는 일이 생각보다 어려웠어요. 그래도 촬영할 땐 서로 불편한 것 없이 많이 친해지고 재밌게 잘했어요. 물론 제가 어느 정도 무뚝뚝하긴 하지만 그렇게만 보시는 게 속상하긴 했었죠. 유라와는 시사회 때도 연락하고 나중에 따로 보자면서 잘 지내고 있어요."
"Real art program, but I think it is more difficult to demonstrate the look of the original usual whip in front of the camera. But well done without a lot of fun to get to know each other uncomfortable when shooting. Although of course I Aced Although you can see, but only to a certain extent upset so bluntly.
Yura and're doing well, and later when he let off contact screening. "
-----------
thoughts
I think because he has been mentioning Yura's name and from previous interviews posted via allkpop, he even told that he invited her to the VIP screening and that she promised. But then Yura was on vacation and I think she could not make it that night. So this seems to mean that he contacted her and later perhaps she promised to watch his movie.
Hong Jong Hyun not afraid to share his feelings of "friendship" with Yura more than any other names he was already friends with [cough..cough] I think this means that he not only value what he has with Yura but also give importance to their "friendship" which is rare in K-industry which all fans and followers of other celebrity know for a fact.
To invite her and publicly uttered it is beyond my imagination. Yes, I have read other "couples" from dramaland or even WGM pairings from before that they contact their partners still is just something to say but it meant nothing, chincha.
But coming from Hong Jong Hyun, it spoke of deeper meaning and sincerity that he consistently show fans and shippers,
For someone who is promoting a movie with another actress, Yura's name dropping every now and then in his interviews is really something to ponder about. And for media outlets to take this course of interviewing him about Yura is telling how media and netizens are still very much interested about them as former virtual married couple turned close friends after.
As a shipper, I want to read more between the lines. I am not anticipating Yura to show or extend the same courtesy to Hong Jong Hyun being an idol of a girl group. To express her feelings to Hong Jong Hyun publicly is a no..no for an idol unless her agency will permit her to be that expressive.
Well, it is enough that Hong Jong Hyun's world is becoming smaller with his stint as MC in Inkigayo. Sooner, Gorl's Day will have their comeback album and hopefully, "friendship" [as he call it] will stay strong.
Currently via tweets, Clash Of The Family 2 is doing great and people are entertained by the movie. Just last night he and actress Jin Se Yeon were at Lotte cinema to meet fans and even sold tickets to them.
I also like that Hong Jong Hyun had a good chemistry with Jin Se Yeon because as an actress she has been lucky to have found partners in dramas she already done where she had good chemistry also.
Wrapping up Hong Jong Hyun's interviews are all about the movie. Just glad that Yura is always in his interviews.
mslee1107 sharing toughts
Posted by

mslee1107
at 1:18 PM
No comments: