Waiting is about to end. And mslee is glad.
Sunday night and I am bored, nothing to watch this weekend. Even HBO can't get my undivided attention. And I am waiting impatiently for Yoon Eun Hye new rom/com drama MHIYD.
Setting my alarm clock on my mobile phone so that I will not forget.
Looking at this poster I am noting the different poses and expressions on their faces. It's like they are telling their own individual stories here. And just by looking, I am definitely sure will have fun and laughter while watching.
Na Mi Rae looking as if she's considering something. What? Her choices?
Kim Shin looking surprisingly annoyed? Was he been fooled? And someone laughing as she runs away?
Hmmm...Park Se Ju smiling contentedly while holding on to a Na Mi Rae photograph. Did he found love?
Seo Yoo Kyung is smiling openly, and maybe amused at what's happening around her?
So much questions inside my mind looking at the photo. And the best part, the wait will soon be over. Less than 24 hours and it will be live via KBS.
Should I root for Kim Shin? Or should I choose the sweet and lovable young VJ? I don't know. Maybe I want spices in a love story. I want cat and dog relationship before realizing love. It's a romance comedy, I guess it's fun watching two love birds clueless of what's happening around them.
A genre where Yoon Eun Hye is comfortable playing. She is at her best when being funny. It's natural to her. Together with her new look, her hair flying all over the place, frizzy and curly yet adds more life to her already beautiful face.
Waiting for romance...
Am I giggling seeing this stills? You bet! I want to see this scene! Without any disruption from outside forces! lol Because sometimes when you least expect a distraction, that's when it suddenly pops up!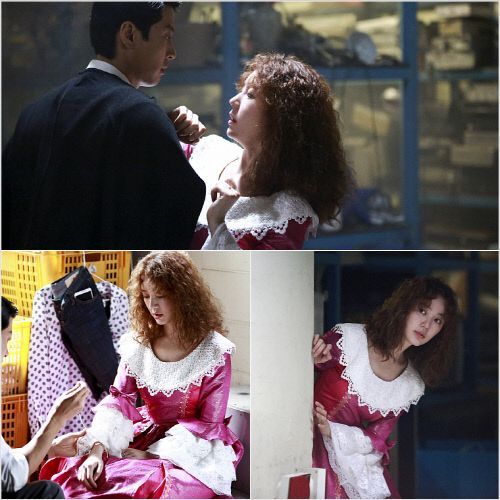 And what about this remake or almost the same pose of the classic and popular Gone With The Wind?
So many favorite stills already and the drama is yet to begin.
Whether it's Kim Shin or Park Se Ju, as long as Na Mi Rae finds her purpose in going back to the present, I know her journey with present Mi Rae will be something of a revelation to her. Because love will surely find her again.
It might be a roller coaster ride, searching for true love in circles, but in the end, I know love will succeed and find their true home.
Another drama I have been waiting for in a while now from Yoon Eun Hye. As for the rest of the cast... Lee Dong Gun, Jung Yong Hwa and Han Chae Ahn , they are an awesome ensemble.
Tomorrow my wait will end!
this is mslee1107 rambling her thoughts
photos all credit to KBS/dc/soompi thread