Well, mslee1107 is a follower of JjongAh couple [Yura and Hong Jong Hyun] and suffice it to say that today's last episode is going to be a sad day for viewers like me and the rest of the shippers, globally.
I personally understand that sooner or later, the show will end. But I think just like the rest that it is an abrupt ending that suddenly materialized just after saying otherwise just a couple of weeks ago. So I know how the rest of the fans, which continue to grow amazingly each day have these negative feelings for the network and the production team behind WGM. They have got to support the last episode despite the sadness and the angers but at the same time have to tell how they are feeling.
A Protest
Not to make the couple come back or extend their segment. But to show that shippers and followers of JjongAh are not satisfied with how the couple would end today's episode in a short and very tight minutes. A decent ending is what every follower would have asked.
This is a joint effort of all JjongAh shippers and @tinkiebell via
JjongAh soompi
has shared this idea and come up with this amazing group tweet that will start today.
Just want to share this here in my page for those who are dropping by for all things about JjongAh. Inviting you to join:))
credit: @tinkiebell and the rest of the shippers who formed these event
Dearest fellow Jjongaholics,
Remember that
Jjongah Solidarity Twitter/Weibo Hashtag Event
we're organizing this coming Saturday?
Well we have more information on the event.
Some of you might have seen this circling around in various social networking sites already, but here you go: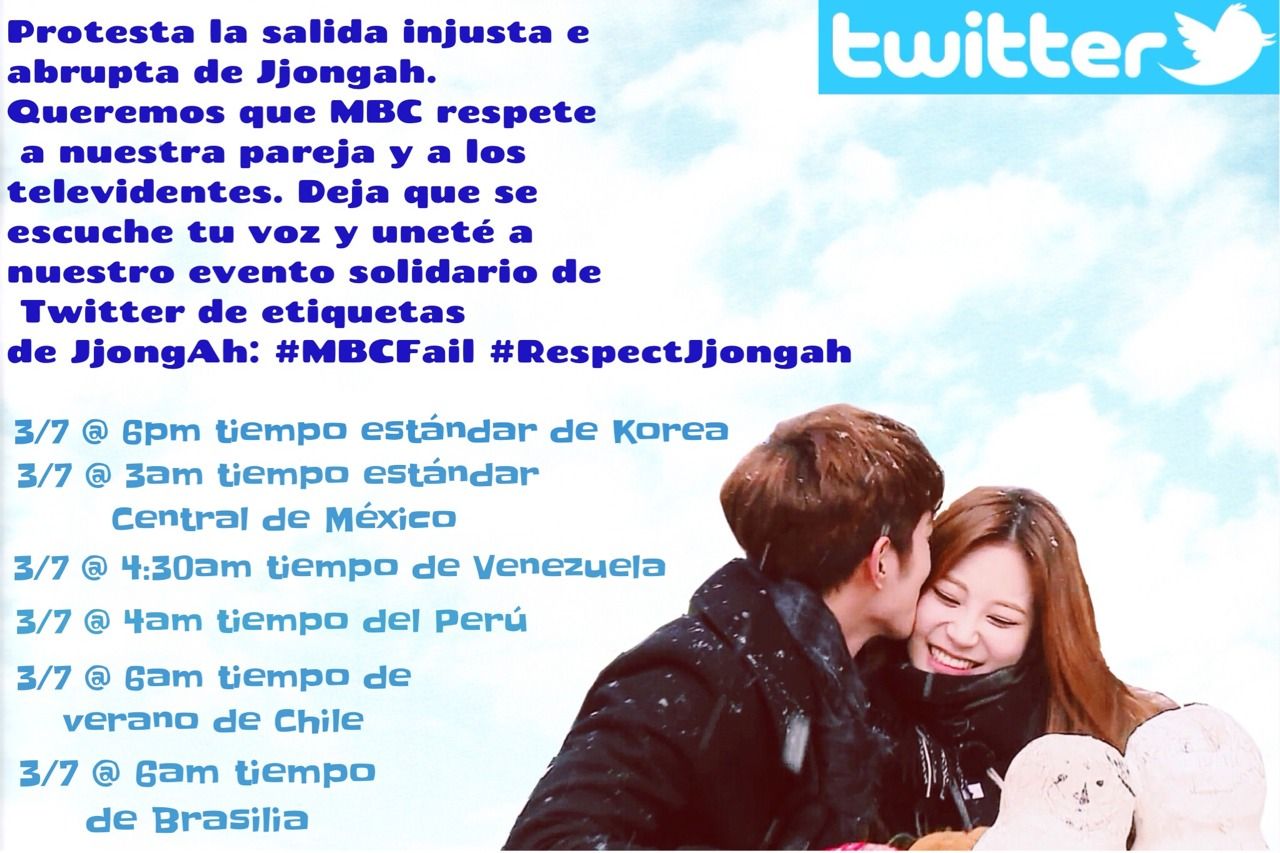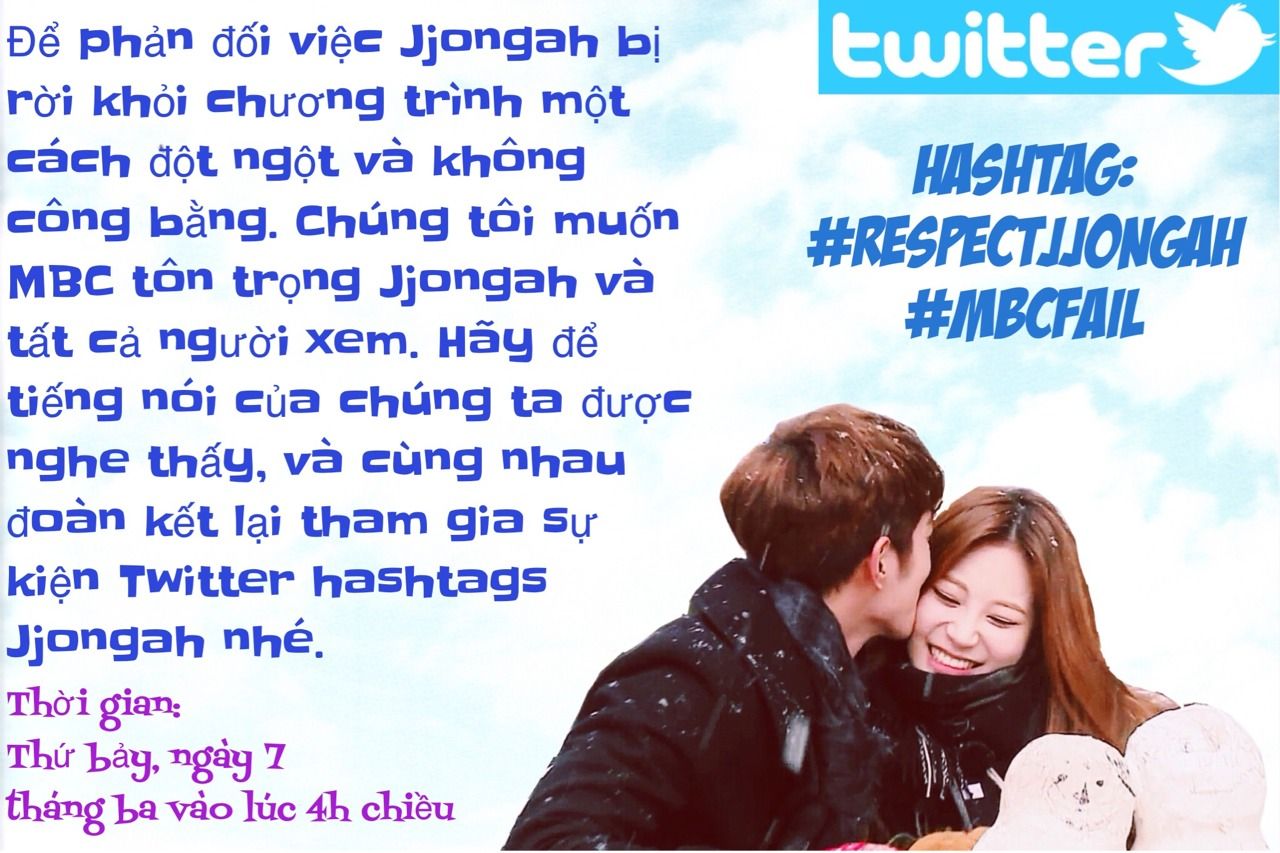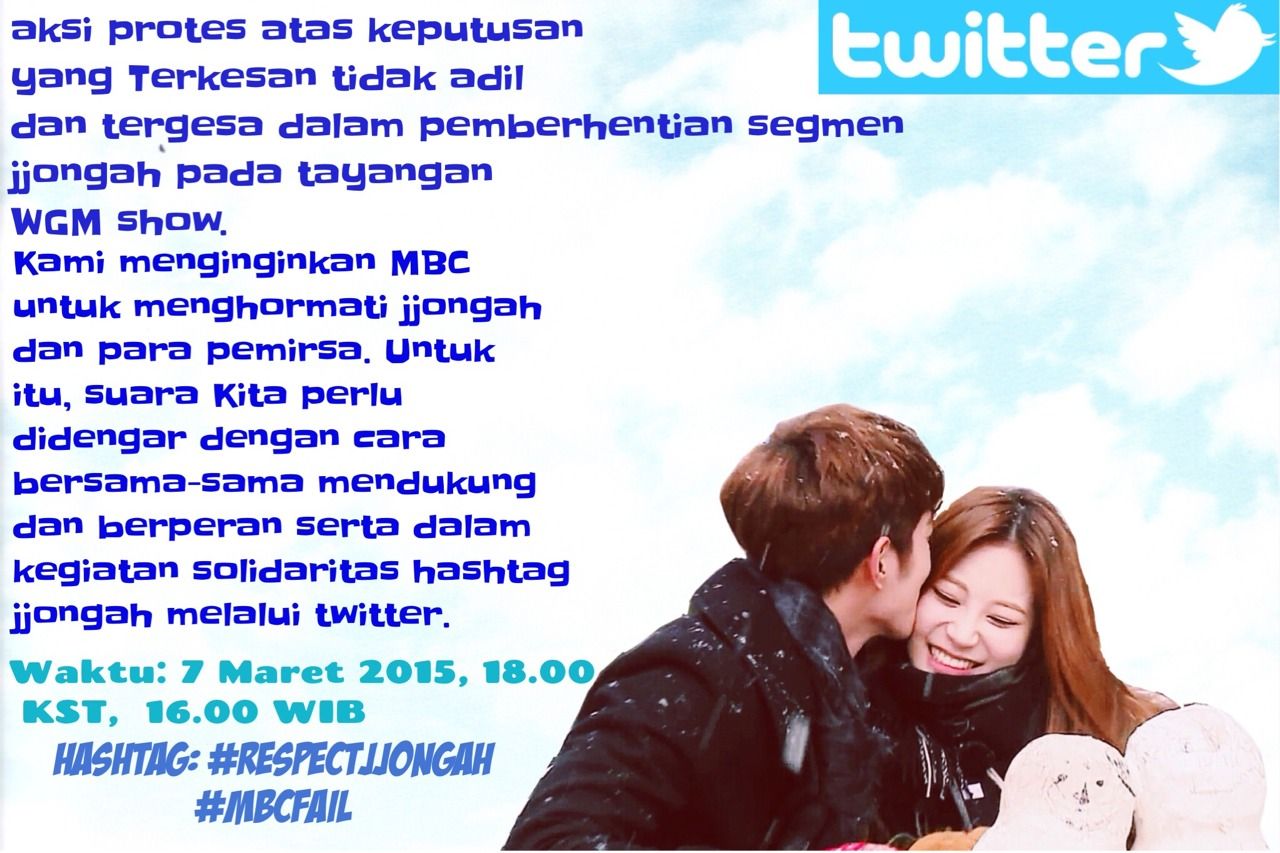 Please help promote this event in your respective Jjongah community as well.
And AGAIN, I have to stress this out,

this is going to be a peaceful and rational protest.

We are doing this for fairness and justice. We do not want to implicate anyone and do not wish to leave behind anything that can be used against us and bring harm to JjongAh. We are well-aware that the departure of our couple has been casted in stone and being Jjongaholics, we do not wish for JjongAh to re-enter the WGM scene and subject themselves to another round of unfair and unjust treatment. So whatever that we are going to do and say in our protest is to protect our couple, that's our topmost priority.

Hence I urge Jjongaholics to be cautious with your protest messages.
We shall end this protest at 07 Mar 15 2400hrs KST and exit WGM with only the good memories.
PS. Don't forget to
send your well wishes and thank yous to Jjongah and PD Sun as well.
(Mention their twitter accounts for these well wishes, as well as MBC's twitter account(s) so MBC is notified of this act of protest as well)
Mention Yura on twitter: (@Girls_Day_Yura)
Mention Jonghyun on twitter: (@jonghyunjapan) and/or (@widmayofficial)
Mention MBC on twitter: (@withmbc)

and/or

(@mbcnest)
-----------------------------
Today is the last episode. Tune in via live streaming @5PM KST.
a farewell for JjongAh couple